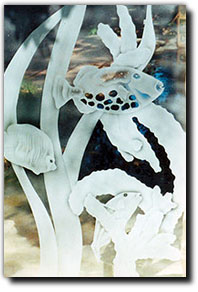 Hello and welcome to Classy Glass featuring quality custom glass etching, sandblasting and carving.

I specialize in creating professional artwork on shower doors, French doors, store fronts and mirrors for restaurants, offices, homes, antique cars and much more.

Interested on having a large piece created but don't want to have to worry about the glass not surviving the shipping process? I can help you! I am willing to travel the country and abroad and save you the hassle. Along with my experience, quality work and know how, this is my best selling feature.

There is nothing more unique than a personalized item designed with your ideas, your thoughts, your imagination. Please contact me to find out how to get started.